With more than 13,000 tropical islands, over 700 languages and bridging the Pacific and Indian Oceans - 215 million people call Indonesia home. From the enchanting traditions and beaches of Bali to the rugged landscapes of Java and Komodo, the rainforests of Sumatra to the bustling hubs of Yogyakarta and Jakarta - Indonesia is a truly diverse travel experience.
How do I get there?
If you are travelling from Europe or the USA your main entry point into Indonesia will be Jakarta Soekarno-Hatta International Airport (CGK) via Singapore, Bangkok or Kuala Lumpur. Coming from Australia, there are a number of carriers that fly directly into Jakarta. Flights from New Zealand will usually take you via Kuala Lumpur or Sydney. The other large scale international airport in Indonesia is located in Denpasar, Bali Ngurah Rai (DPS) and is a great jumping off point to start your travels.
When is the best time to go?
Being such a large archipelago the best time to travel really depends on where you want to go.
Situated firmly in the sun drenched tropics – Indonesia has an average temperature of 28 degrees and two distinct seasons: dry season that runs from May – September and wet season taking up the rest of year.
Dry season in Indonesia is a time when resorts fill up quickly, crowds descend and the price for accommodation is at its highest. The best times to travel are:
Bali and Nusa Tengarrra: April/ May – October.
Java: January – August.
Sulawesi: August – September.
Sumatra: June – July.
Sth East Maluku: December – March.
Wet season means monsoonal downpours, steamy days with sunny patches but also less crowds and cheaper prices. The wet season in Bali, Lombok and Java runs from October – April. However in Maluku and Papua the best time for diving is during this time when it is their dry season. Also keep in mind that parts of West Papua, Nusa Tenggara, Sulawesi and Sumatra are often cut off after monsoonal storms.
Peak season in Indonesia runs from May – September but also includes all local religious holidays, Christmas, Chinese New Year, Western New Year, school holidays, and all Muslim holidays.
Do I need a visa?
All travellers to Indonesia must be in possession of a passport that is valid for at least six months from the date of arrival and have proof of an onward or return journey. If you're planning to visit Indonesia contact your local Embassy or Consulate as visa laws change regularly. Click here for more information on visa requirements.
Money
Indonesia's unit of currency is the rupiah IDR. Make sure you count your zeros! Many western tourists visiting for the first time find it hard to differentiate between a 10,000 IDR note and 100,000 IDR note. Always carry a wad of small bills 20k RP or less as it can be difficult to get change in a lot of areas.
Exchange rates vary however roughly you can expect the following;
1 AUD = 10,000rp
1 USD = 13, 000rp
1 Euro = 15, 000 rp
What's the best way to get local currency?
Money changers are found throughout Indonesia and can vary from a back-street set up to a full and official bureau de change. Try to exchange money only at authorised reputable banks and exchange counters. Be wary of smaller, 'unofficial' money changers and keep a look out for the old swift sleight of hand moves, rigged calculators or deliberate errors. Don't hand your money over before counting the cash on offer.
ATM's are found everywhere in Indonesia and have a limits on withdrawals. ATMs dispense 50,000Rp or 100,000Rp bills only. So get used to doing more than one transaction.
ATM skimming in Indonesia is becoming common - particularly in tourist hot spots like Bali. Here are some ways to minimise the risk:
· Have a separate account not connected to your card
· Carry back up cash
· Check your account regularly for any odd transactions
· Notify your bank when you are travelling
· Withdraw cash from inside a bank or only from one with a security guard at the entrance
· Don't use ATM's on roadsides, in convenience stores or in super popular tourist areas, supermarkets, stores – unless a security guard is present.
Credit cards are accepted all over Indonesia with Visa and Mastercard the most widely used. Transactions usually incur a 2 – 3% surcharge. Before travelling anywhere notify your bank that you will be travelling to avoid your account being frozen.
What are the accomodation options?
From your basic backpacker dorms to surf camps and beach bungalows all the way to 5 star luxury resorts – Indonesia has every room option imaginable. You can choose from eco lodges, boutique spa retreats, private villas or rustic out of the way homestays.
All accommodation has a combined tax and service charge (called 'plus plus') usually around 21%. Make sure this is included in your rate. Luxury villas are popular options in Bali, most come with full staff, pools, air conditioning, chefs and more.
Do I need travel insurance?
Before travelling to Indonesia (or anywhere for that matter) take out comprehensive travel insurance. Check the fine print that all the activities you plan to do are covered under your policy this includes scooter hire and adventure sports.
Always wear a helmet and keep in mind if you are under the influence of alcohol your insurance will become null and void should you have an accident.
Keeping healthy
Do I need to worry about getting sick?
For all minor medical issues visit a pharmacy (apotik). There are English-speaking doctors in most main centres and medical clinics. Dentists (doktor gigi) and public hospitals (rumah sakit) are located in all major cities and towns.
It is a good idea to visit a specialised travel medicine clinic 4 – 8 weeks before departure to get up to date information on any vaccinations you may need.
Health concerns do vary throughout the archipelago. Accidents, mosquito borne viruses, rabies and Bali Belly are the most common health issues
*Please note the information provided is a general guide and does not replace the knowledge of a medically trained professional.
Mosquito-borne illness like dengue fever and malaria usually occur during the wet season. There is no vaccine available for dengue and it can only be prevented by avoiding mosquito bites. The mosquito that carries dengue fever is active day and night. The greatest risk of contracting malaria is in rural parts of Indonesia. The main cities of Java, the Gili's and Bali are all considered malaria free. The most effective ways to avoid both illnesses is a combination of mosquito repellents and medications. Seek medical advice as soon as symptoms present.
Prevent mosquito bites by:
Using a DEET-containing insect repellent on skin and clothes.
Always sleep under a mosquito net.
Make sure your accommodation has fans and ideally air-conditioning.
Wear long sleeves and trousers in light colours.
Use mosquito coils.
Close your doors at dusk and after rain.
Cover up after dark.
Avoid sitting close to bodies of water after dark.
Eat loads of chilli, garlic and Vitamin B – mosquitoes don't like the taste.
Rabies has been reported throughout Indonesia and is spread by the bite or lick of an infected animal, most usually in a dog or monkey. You can minimise the risk and the ease of treatment by getting vaccination prior to travel.
Bali Belly (traveller's diarrhoea) is very common and caused by bacteria (there are many ways it can be transmitted), and responds well to antibiotics. If symptoms begin stay hydrated with Gastrolyte, fresh coconut water with lime and spring water. Charcoal pills are a common local remedy available at all chemists. Avoid alcohol and spicy foods.
To minimise the risks:
· start taking a travellers probiotic 2 weeks prior to travel
· use a hand sanitiser frequently
· avoid raw salads, dairy and uncooked foods
· never use tap water to brush your teeth and be careful not to get water in your mouth when showering, swimming etc.
· Street food in Indonesia often doesn't agree with Westerners, so if you want to sample the local food it's best to go to a clean popular looking 'warung'.
Some travellers return from their travels with unwanted guests. It is always a good idea to use basic precautions to avoid parasites in general - use a hand sanitiser, wash your hands regularly, don't share towels and avoid raw foods. In more remote areas be mindful of washing in rivers, streams, walking barefoot and handling animals.
Can I drink the tap water?
Never drink the tap water in Indonesia that includes using it for brushing teeth. Cheap bottled water is available and is safe to drink (just check the seal before consuming). Or look out for refill stations and help stop the sea of plastic. Most ice that is used in drinks is OK if it's been bought in bulk. Just avoid the stuff that is chipped off large blocks in rural areas.
Women's Health
Like a lot of places in south east Asia it pays to come prepared. Indonesia does not commonly sell tampons in a lot of areas and sanitary products become even harder to find the more remote you travel. Also bring your own contraception.
Getting Around
Motorcycle/ scooter hire
Motorcycles and motorbikes are easily available for hire from 60K – 100K per day throughout Indonesia. Make sure you travel with a valid international drivers licence and carry it with you at all times. Forget about messing up your hair - wearing a helmet is required by law and is life saving. On the coast most hired bikes come with surfboard racks included.
Check your travel insurance policy in detail as many do not cover you if: you are in an accident under the influence or the motorbike is not driven by a local, or you are riding without a licence or not wearing a helmet. It pays to read the fine print.
Taxi / private drivers:
Taxis are common in Indonesia and vary in price dependent on city, area and regions. Private drivers are everywhere and generally base their prices on location, distance, and season. Prepare to bargain for the best price.
Grab/Go-Jek
Download the apps and you will save a bundle in transport costs. Grab (for cars) or Go-Jek (scooters) are everywhere and loads cheaper than taxis and drivers. Go Jek has additional services like Go Food, Go Shop and Go Ride. But be warned online taxi services are not allowed in some regions – particularly in areas of Bali like Ubud and Canggu where the local drivers maintain a monopoly (and their livelihood).
Ferry, fast boat, bus, train:
Buses are cheap but slow in Indonesia, and often overcrowded. Minibuses, or bemos are used to travel shorter distances. Perama is the main operator on Bali and Lombok.
Shuttle buses are the most comfortable way to visit tourist areas in air conditioned comfort.
Pelni state run shipping line runs more than 20 long distance ferries in Indonesia. With fast boats and ferries connecting up some islands like Lombok, the Gilis and Bali.
There is a limited train service in Java and small areas of Sumatra. In Java, trains are comfortable, fast and usually connect with the ferry to Bali, and in the west with the ferry to Sumatra. Train travel is available in 3 classes: Executive (eksecutif), Business (bisnis) and the budget option of Economy (ekonomi). Information can be found at www.kereta-api.co.id.
Bicycle, tuk tuk's and other ways to get from A to B:
In some areas such as Yogyakarta you can navigate the city and take in the sights in a classic horse drawn carriage or ride the local tuk tuks. Or do the classic 40 km downhill bike ride from the top of Kintamani in Bali through the rice fields to Ubud. Bike hire is steadily becoming more common in tourist areas. All abilities are catered for in Bali, Sulawesi, Java and Lombok. Or if you want more off road cycling head to Nusa Tengarra or Sumatra. Some popular hotels in main tourist areas also offer complimentary bike hire.
General
How do I bargain?
Bargaining (tawar) is a part of life so approach the haggling with a big smile and a sense of humour and you will get the best deal. Look out for 'morning price' & 'best price'. Most of all - just enjoy the banter
What kind of electrical plug do they use?
Power supply in Indonesia is 220 volts so it pays to be careful with your electrical equipment. The 2 types of plugs used are round tip Type C, E and F. Invest in a quality adaptor prior to travel as the quality of the ones on offer in Indonesia can be variable. Most hotels and restaurants will provide adaptors and free wifi connectivity. Power outages and surges are common and can play havoc with your electrical equipment.
How can I be respectful to the locals and their customs?
Indonesia has the world's largest Muslim population which means modesty is important. This includes islands like the Gilis, Lombok, Java, Medewi etc. the general rule is to avoid baring too much skin. Even in tourist hubs like Bali – avoid topless sunbathing, be respectful and cover up when visiting any religious buildings.
Be mindful during religious periods such as Ramadan or Eid, where fasting takes place and businesses slow down for a month. Muslims also don't drink alcohol or eat pork, while the Hindi don't eat beef.
In Hindu and Buddhist regions like Bali it is considered disrespectful to get angry, lose your temper or raise your voice. It will cause you and the other person shame so when in doubt just smile.
Shoes come off when entering a home, businesses and religious buildings such as mosques.
General safety
· Secure your bag when riding on scooters – in many tourist areas throughout Indonesia bag snatching has become a real problem.
· Avoid texting or using your mobile phone when riding on the back of a scooter. Ride by phone snatches happen regularly.
· Exercise common sense at night in dark, remote locations and when travelling alone.
Please refer to up to date travel advisories:
Australia www.smartraveller.gov.au
New Zealand www.safetravel.govt.nz
UK www.gov.uk/foreign-travel-advice
Canada www.travel.gc.ca
Etiquette in Bali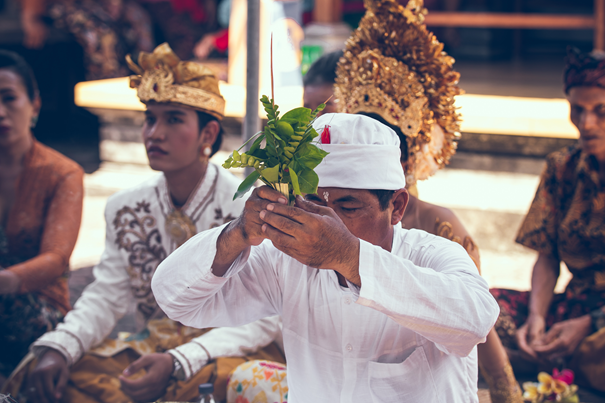 Unlike the rest of Indonesia, Bali has its own unique religion found nowhere else on Earth. Steeped in complex ritual and ceremony and blending animist, Buddhist and Hindu philosophies – Bali maintains a powerful sense of tradition.
Simple respect and modesty go a long way with the warm, smiling Balinese. Some basic tips will help you honour this unique culture.
The general rule is if you wouldn't do it at home - don't do it in Bali:
Unless you are at the beach, poolside or at a yoga class – cover up. It may come as surprise to many, but riding scooters shirtless, in a bikini or in tiny shorts is considered disrespectful by the ever smiling locals and you also run the risk of being pulled over by the ever present Polisi and fined.
Ceremony is part of Balinese daily life which means all processions get right of way. Do not honk your horn or interrupt. Be patient and enjoy the spectacle.
Be respectful in local villages it is not the place to walk around baring midriffs or without a shirt on, the locals may be smiling – but it is considered really rude to have it all on show. Remember each village also has pecalang (security) that keep their eye on things.
For the modest Balinese PDA's or open displays of affection are not the done thing, so tone it down and keep the touchie-feelies for when you are somewhere more private.
Always use both hands when you are handing something to someone and never use your left hand to touch someone or give something.
In Balinese culture the soul lives in a person's head making this part of the body off limits. Touching people's heads (this includes children) is a no go.
Always extend your hand with palm down – don't ever use your index finger to point or gesture.
Try to keep your cool because losing your temper, raising your voice, pointing or being confrontational are all considered extremely offensive behaviours in Bali.
Temples are sacred holy sites. Just as you wouldn't wear a bikini and strike a yoga pose in a church or a mosque – the same rules apply in temples. Don't walk in front of anyone praying. Cover your shoulders, and legs to below the knees. All visitors to Balinese temples (pura) must wear a sarong and sash (usually provided at the entrance). You are also not to enter any temple if you're menstruating or have an open wound.
I want to chat with the locals! What should I say?
Closely related to Malay - Bahasa Indonesia dates back to the 7th century AD and is the second language to 90% of Indonesians. A staggering 700+ dialects are spoken in the archipelago. Learn the basics before you go.
Hello - Salam
Goodbye - Selamat jalan
Yes - Ya
No - Tidak
Please - Silakan
Thank you - Terimah kasih
Excuse me - Permisi